Portland! How cool is it that I have now been in two Portlands on opposite sides of the US?
"WAY COOL!" shout the teenagers en masse.
Wow, right on, guys.
I ended up staying in Portland almost a week, mostly due to an awesome friend of mine, one Ramón Chaparro, a good friend from college with whom I've always been able to connect very easily due to his unassuming frankness and humility. You may remember his parents from such posts as: Little Rock, AR.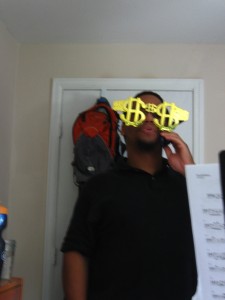 Ramón was very enthusiastic about the project and incredibly helpful as far as musical contacts. He helped me line up quite a few people to record that he knew in the Portland area, as well as hooking me up with the aforementioned Jenny Rose in Sealth. He had even taken a few days off work to traipse around Portland with me, and I was glad of his company. I offered him a deal traveling with me for the rest of the Tour, but he wasn't able to make it work, sadly.
My usual channels gave me two or three contacts but only one of them actually recorded with me, the rest of the peeps were Ramón's, which he generously shared for the project. The first of Ramón's peeps was a girl named Shelley Bowers.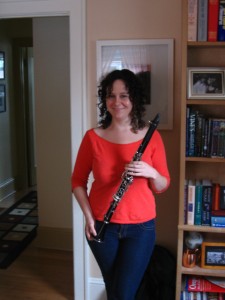 We spent a while coming up with delicious parts for her to play, and recording them, before we had to be on our way. I would also like to mention that she made some exceptionally delicious banana pancakes for us while we were there! I would also also like to mention that she and I are going to hang out in Korea, since she is planning on teaching English over there soon.
NOTE TO TIME LORDS: Unfortunately it's been a while since I was there (it was the first week of October) and my memory for events is great, but my memory for sequence of events is terrible (this is why I did badly in history class). So this recounting of recorded peeps may be out of order, but you can count on there being no "factual embellishments."
Another peep I recorded one of the evenings in Portland was a great soul singer named Lucy Hammond.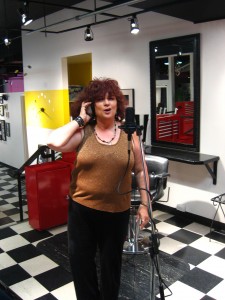 Lucy had a very versatile voice and added some great vocal colours that were otherwise missing from the project. Not only that, she is witty, chatty, and very personable, possibly helped along by her experience working in a salon, which is where we recorded. When Ramón and I arrived she was finishing up a manicure. Check this place out: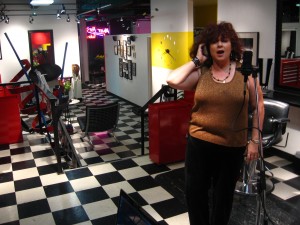 We had a blast recording and chatting with Lucy.
Then — or possibly before — I'm sure it was a different day, actually, because this guy was first thing in the morning — we were off to record Peter Chan, a saxophonist specializing in free jazz and working on branching out into straight ahead stuff (kind of backwards from the norm).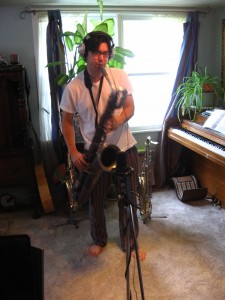 Peter added some really great stuff to a handful of songs, and did a nice solo thing on the bari.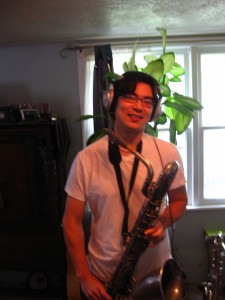 Our final peep from Portland is a fellow by the name of Ross Davis, who is quite a competant jazz bassist. He plays
— wait for it —
— keep waiting —
"Oh come on already," groans a nearby old man on the corner, sitting smoking his pipe.
"Hey!" pipes in AG. "Those were lyrics from one of your songs. Are you trying to subconsciously prepare people for the release of your albums by including–"
No. I just wanted a delay to increase the suspense for what Ross plays. Anyway, he plays-
"That's a juvenile tactic."
Yes, my mind and my body appear to be maturing at different rates. But back to-
"Tch. Seriously."
You realize you're playing right into my hands by continuing to talk, right?
"…"
Anyway. Ross plays THIS: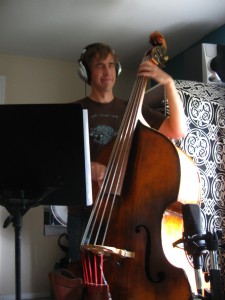 Upright bass was one of the high-priority instruments on my wishlist. At the time of this writing (with one state left to go) only two instruments remain high priorities: french horn (Or should I call it "freedom horn"? Ridiculous.) and glockenspiel. I also still need a baby crying.
Ross added some fantastic upright parts to several of the songs. His playing needed very little feedback from me, and didn't require a lot of my "acceptance of the unfamiliar" mindset. He pretty much played exactly what I wanted.
THE VERDICT: Ross Davis saved the project!
I must reiterate that I had a fantastic time reconnecting with my good friend Ramón the whole time I was there, and both I and the project owe him a great deal for his wholehearted comtributions of time, energy, and resources to the project. Thanks Ramón!
NEXT: The long arm of Ramón.