Bend! Besides being the home of famed cluster balloonist Kent Couch (undoubtedly the first cluster balloonist to fly in a lawnchair from Bend to Idaho), Bend is also known as one of the most scenically scenic places around.
"Excuse me," interrupts Attractive Girl, delightfully.
Well, it's been a while! I was almost afraid you had moved on to someone else's blog.
"Nope, not every girl is like that," she replies, winking.
You have to stop winking like that, it's very distracting.
… What was I talking about?
"Bend. And what I want to know is, why Bend? It wasn't originally on your itinerary."
I went to Bend because of —
MPM: THE LONG ARM OF RAMON.
— um, yeah. Geez, we had two entire posts with no narrative devices and now this.
I had not yet located a host on the way towards Boise (the next stop) so Ramon very generously bought me a night at a bed & breakfast in Bend, which was pretty much exactly halfway to Boise from Portland.
"Hey," says the ugly passerby, "did you by any chance steal that phrase about Ramon's arm from a song by your friend Michael Olson, entitled Long Arm of Love?"
Dang, you caught me. Can I continue?
"I knew it!"
On my way to Bend I saw many scenic scenes. I even, on a lark, decided to follow a sign for a "Scenic Route" which ended up adding only a half hour to my trip, and negligible distance.
A few times the scenic route actually came out from amidst all the trees to give me a view of something, but unfortunately it had started misting.
At one point, I knew I was really high up and there was a ridge to my left so I got out and climbed up the ridge…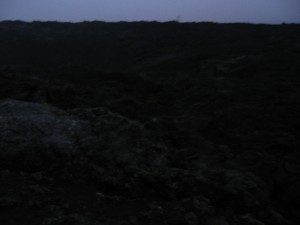 I thought if I just went a little further I could have a spectacular view. At last, I came over the top of the ridge and saw: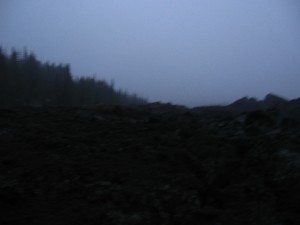 Ok, not quite so nice. But I turned around and got a decent shot of my car.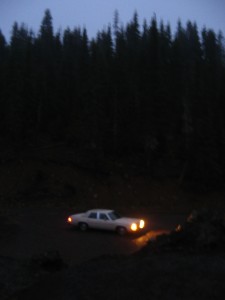 Finally, I reached the summit. It was dark.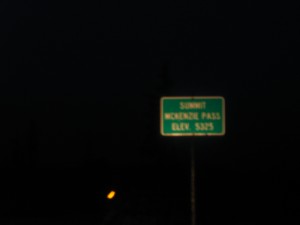 The bed and breakfast I stayed at was called Country Inn the City. It was a nice homey place run by two very kind and motherly young ladies.
I had a bed!!!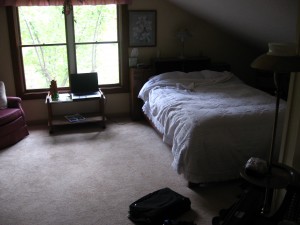 The following day, after an exemplary breakfast, I was on my way. I poked about Bend for a bit before heading along towards Boise.
On behalf of Attractive Girl, the ugly passerby, the mob of teenagers, Movie Preview Man, everyone who hears and enjoys the final product, and of course myself, thank you Ramon!
NEXT: Boise — where is it and why doesn't it rhyme with "tortoise"?