ME! Not to be confused with myself and I, ME is actually the northeastmost state in the Union.
We arrived in Portland to find a pleasant city with a healthy dose of "small bayside shipping town" feel. When we got the the edge of the State, it was our first time seeing the Atlantic Ocean so we found a beautiful spot along the Eastern Promenade to watch the ships come sailing in, etc.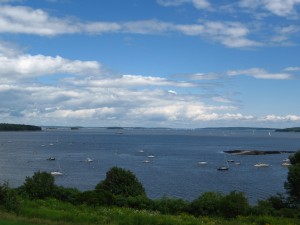 We sat and enjoyed the salty air, cool weather, and the great view for a good while.
In particular, I liked the one with the cool sails.
Then it was time to find the house of Phil James, shakuhachist. A shakuhachist is a person who plays the shakuhachi.
"Didn't you, in fact, make up the word 'shakuhachist'?" asks Mr. Yerfulovit.
Yes. Anyway, more information on shakuhachi can be found on Phil's site. It's a cool instrument, and Phil is quite skilled at playing it.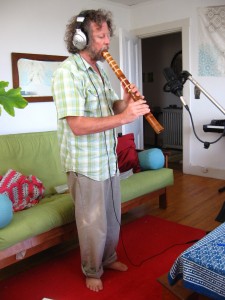 By the way, we saw this great sign while trying to find Phil's house.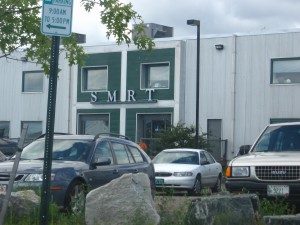 Now back to Phil. We recorded some shakuhachi on several tunes, as well as some solo shakuhachi, using a larger, lower-piched one.
Phil was a great guy and a pleasure to work with. Then, after packing everything up, we were on our way out when I saw something that looked like an instrument sitting near the door.
"What's that?"
"A harmonium."
"Really."
"Yes."
"…"
So we set all the stuff back up and got him on harmonium for a couple tunes.
Then we packed everything up again, and suddenly on our way out I noticed something resembling a piano just sitting there by the door.
"What's that?"
"A piano."
"Really?"
"No, it's actually nothing."
"Oh okay then. Take care!"
"…"
After recording Phil, we were off to dinner with fellow Couchsurfer Alissa Greenberg, who was in Maine for a bit before returning to her home in Boston. She recommended a place on the coast called the Lobster Shack. I was the only one of the three of us who had lobster. It was incredibly fresh and delicious. Also expensive, but I figured it was probably my only chance to try Maine lobster in Maine.
It was dusk. It was also beautiful.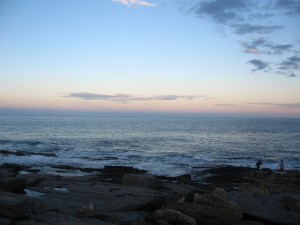 Then we made a short drive to the place she was staying, which happened to be private property very close to the sea. Evidently due to some sweet familial hookups she can sometimes live at this amazing house on this amazing location. More stunning views ensued.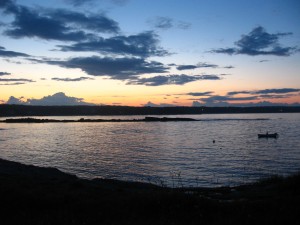 The mosquitos were feasting on our warm flesh, so we couldn't stay long. But it was lovely.
Then we were off north to a remote place somewhere between Bucksport and Bangor to meet our hosts, Molly and Shawn Mercer (pictured with children and pets):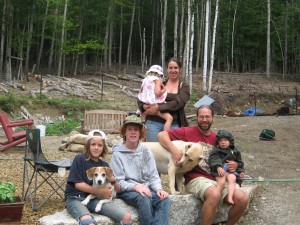 Their house was off the beaten path. Also, off the power grid. They use solar power, drink well water, keep animals for food, and even made their own house using wood from their property! Don't worry about deforestation in this instance. They still have far more than their share of trees.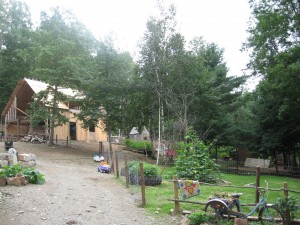 They have chickens, turkeys, cows, and dogs.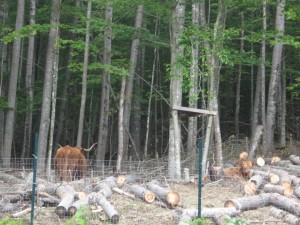 Shawn is also a singer/songwriter, and does a bit of traveling to play various places. We had some good discussion about music and teaching (he's a teacher, and I was before this project).
Next morning, we loaded up,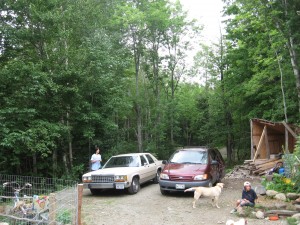 followed them out on their long, long "driveway,"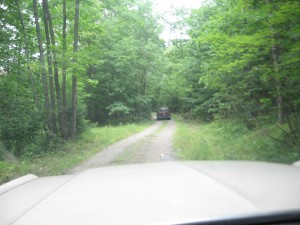 and were off to our next stop — Boston!
NEXT: San Fransisco!