I am pleased to report a successful completion of the first Leaf of the Tour. I am writing now from my room in Tour HQ (Omaha), where I will be for the next week as I prepare for Leaf 2. This will be my final post dealing with Leaf 1. The Peeps page has been updated to include all participants, and I will now discuss the final city in which I spent time: Peoria.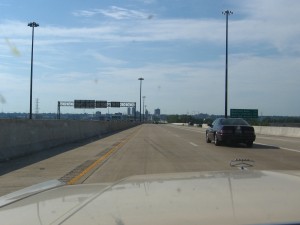 Peoria! They say if it'll play in Peoria, it'll play anywhere. They really say that; ask them. Peoria comes out of nowhere when you're coming in on 74W — you're in the middle of nowhere, you crest a hill and suddenly you can see in the distance a bridge across a river with a city on the other side. It's a nice sight, and elicited an "ooooh" from me. In fact, I instantly liked Peoria for that reason.
But Peoria got better. When I got there I met my zany friend Dave Costenaro at his hotel. (He's one of those people where you have to use the word zany and not the word crazy.) We met up with another of his friends who was in town also. It was fun; three people, all not from Peoria, hanging out in Peoria. We walked around downtown and had some late lunch at the Riverside Tavern, or Tavern on the River, or something.
"Okay, wait. I've got too many questions now not to interrupt you."
Okay, what are your questions, A.G.?
"First, haven't we seen this Dave guy before? Second, what? He owns a hotel? Third, you are totally bad at remembering the names of things by rivers aren't you? Fourth -"
Hold on there. Let me answer those three. Yes, no doubt you remember Dave from such posts as: Indianapolis, IN, in which he appeared as a zany dude playing with candy. Second, no he does not own a hotel — he was there on business so he stayed in a hotel, and I hung out with him there. Third, yes, I am. Also, I'm bad at remembering the name of Dave's friend.
"It's okay… I'm sure she would understand, since you met like 5000 people over the course of this Tour so far."
Yes, I think she would be understanding. What was your fourth question?
"When are you going to tell us about the musical recording goodness?"
Hold your horses, A.G. I was in the middle of explaining why Peoria got better. So we were eating lunch on an outdoor patio which was actually on the river (which was definitely indicated by the name of the place, whatever it was), and I was seeing an old friend, making a new one, enjoying fine pizza and fine beer, and the weather was fabulous. Also, Peoria, unlike many cities, doesn't have an ugly riverfront. It is instead rather quaint and Midwesternly charming. It was one of those "life is good" moments.
Now, recording. Dave put down some guitar and, on a lark, some super awesome freestyle beatbox. I'm pretty sure it will end up in the final project, it is so awesome. After that, we went to check out some LED streetlights. Evidently some place in downtown Peoria put up a few LED streetlights in their parking lot.
A closer shot gets rid of some of the halo so you can at least make out that there are four separate LEDs.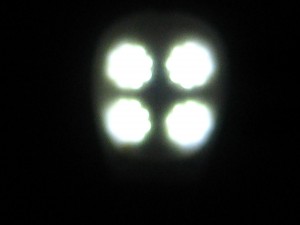 If you don't understand why this is awesome, allow me to elucidate: it is pretty awesome because they are waaayyy more energy efficient, and they last forever. They are, however, much more expensive.
"Totally interesting!"
I know, right? The only downside of converting to LED streetlights is that one of my songs ("Watching the Streetlights") would become irrelevant since LEDs don't flicker, burn out, or otherwise indicate they're not long for this world. That's a bummer I'm willing to live with if the world is all better and stuff though.
Anyway, Dave works for an energy company and is totally interested in this stuff, and I thoroughly enjoyed picking his brain about stuff like this. He has some great ideas for helping humanity and making the world a better place. I think everyone should copy (or at least be influenced by) his great worldview. He is considering making a blog called Dave's Awesome Ideas (actually I just made that name just now but that's what it would be about), which I will definitely link to if he actually makes it.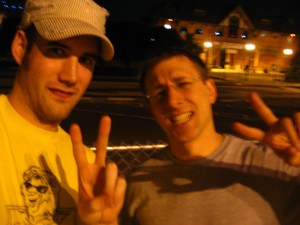 Also, the LED streetlights looked totally cool in person. They looked like Science. The pictures just fail to capture the excitingness. To compensate, on our way back I snapped a shot of this, for no reason in particular other than the slightly odd title and the high Musical Interestingness Index.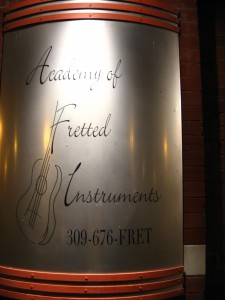 Next morning, it was off to meet with songwriter/actor/musician Slyman Dan. First I thought it was a nickname, then I found out it's nis name: Dan Slyman.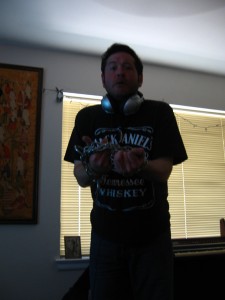 Okay, so he doesn't actually sit around in his house like this. But it was so surreal to actually be recording a guy bound in chains that I had to take a picture. He is a prolific singer-songwriter himself, and he was chock-full to bursting with awesome production ideas, so I spent most of my time with him talking through the songs and brainstorming, which was fantastic. He had so many crazy ideas to try. (Actually, I think he's more insane than crazy. I would consider myself crazy, but Dave is definitely zany and Dan is definitely insane. Oh semantics.)
"No seriously. Why the chains?"
We were recording them, of course. He was simulating a person bound in chains for maximum authenticity. Anyway, I got loads of great ideas from him for Leaf 2. Fortunately, we also had time to record some stuff. Not only did he do some fun voice acting, we also recorded a bunch of random other things, from rattling chains to a coffee percolator to a Speed Racer toy.
"So he only recorded bizarre household noises?"
No, he also laid down several tracks of nice vintage electric guitars, as well as a track of cornet (from the basement).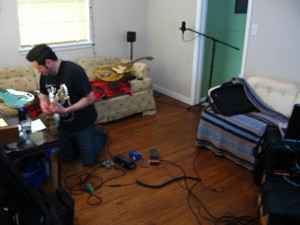 I had a blast the whole time working with Dan because of his great outside-the-box ideas, which somehow still respected the songs. I listened to some of his own tunes with him, and came to realize that we think similarly in enjoying things that are edgy without losing form. Speaking of Dan's tunes, he's very involved in music. I recommend you check him out in more detail.
NOTE FOR ANYONE WHO WANTS TO RECORD A COFFEE PERCOLATOR: On tape, coffee percolators do not sound like coffee percolators until the very end. Before that, they sound like something else entirely. Something awful. Save yourself some time and just start recording at the end. With the cover on. Trust me.