I spent two days in Greer, SC recording with my friend and musical co-conspirator-in-crime Brad Tretola. You may remember Brad from such posts as: the previous two posts.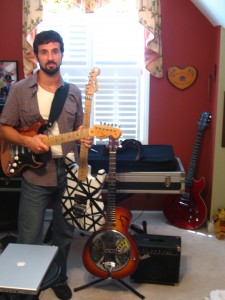 I drove with Brad from Atlanta to his parents' house in SC, where we spent a pleasant if busy two days recording. Brad is a technically brilliant, emotional player and was an absolute pleasure to work with. We spent a good two days laying down parts for probably 10 songs or so, before the time was up.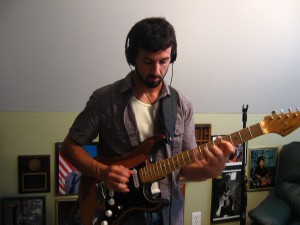 It's amazing to me how fast the time went. It felt like we were just getting into it and then the day was over and it was time to sleep, and then it was the same thing the next day. Brad probably felt the opposite since I kept him in the "studio" all day long, violently whipping him if he tried to take a break. (Ask him sometime about those scars on his back.)
"You know," points out AG, "there may be lawyers reading this."
Oh, you're right. For the record, I did not whip, flog, or otherwise cause any physical harm to any people or animals during the duration of this tour. I do not endorse or otherwise condone violence, unless it is in movies and is therefore perfectly OK, even for impressionable children.
"What about that beetle you stepped on accidentally? I remember you felt bad about that."
Oh, let's just add "intentionally" in there. Good?
"I think you're safe from the lawyers now."
So, Brad's phenomenal guitar playing is now all over the project! We hadn't seen each other in years and I really wish we could have had more downtime to just hang out, but I would have felt like I was letting the project down.
Before you say anything about improper personification, I might add that the moment I had this idea, I was its slave. That's the problem with the creative spirit and incredibly good ideas. They must be brought to fruition, through whatever means necessary. Even if it means going into debt. Even if it means not hanging out with a good friend. Creative people are driven by ideas, by visions of completed projects which only they can see until they make them real in the physical world. But the idea is very much real to the creator. I'm not really making this project happen — the project is using me to make itself happen. I am a creator driven by my creation.
So Brad, next time I hope we can have more time for just chillin' like the villains we are.
Speaking of chillin', the Tretolas had the most amazing inflatable bed I have ever seen in my entire life: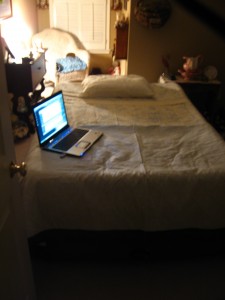 Looks like an actual bed, right? Even feels like an actual bed. But it's really just a glorified air mattress. Remember earlier when I mentioned that amazing air mattress (see Indianapolis, IN)? This is made by the same people. Aero Bed. I support and respect Aero Bed, and would gladly accept a sponsorship from them, in return for regularly using and endorsing their fine products.
NEXT: I get recorded on video by the city of Savannah!