Some non-critical updates for you.
A Technical Update
At the suggestion of my good friend Matthew Campagna, I have begun integrating Shadowbox, an excellent standards-compliant media viewing solution, into this blag.
Presently it seems to be working on the home page, but not individual post pages, although the page code is identical. ????
Check it out on this scenic scene we got driving to Vermont: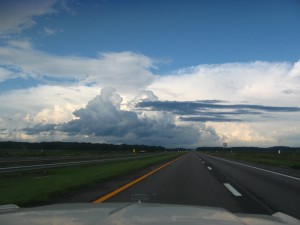 Hopefully I'll get it working completely (or someone will) before I die.
A Descriptive Update
This update exists to provide more opportunities for you to see Shadowbox in action. It's just some "on the road" type shots.
Let's start with a dynamic action shot.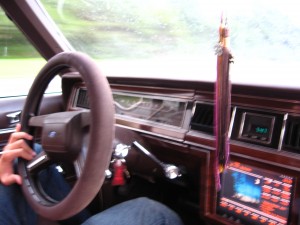 The carputer has mostly been working well. There were a few issues (one with the battery terminal bumping the frame of the car, shorting things and causing the carputer to reboot. I couldn't figure out what was happening until we were driving at night and every time we hit a bump, sparks came from the engine compartment!) The GPS software also decided it wouldn't load anymore, so I thought I was stuck until I discovered I still had the install files on my recording data hard drive. A fresh reinstall fixed the problem. Then the music stopped playing. Some weird setting with Roadrunner's interface with Winamp was glitching. A manual run of Winamp to readjust the volume solved that problem.
Here's a shot of the carputer actually working.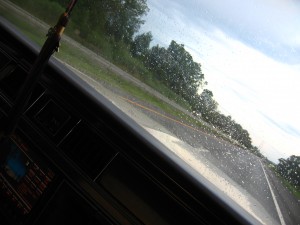 Yeah, there are over 12K songs in the playlist now and things seem to be working. Except for that one time when it wouldn't recognize the keyboard. Turns out it had come unplugged, and plugging it back in was not working. I'm not going to point any fingers, but I'm not the one sitting on the passenger seat… haha. Anyway, JH was a trooper and helped me fix it while we were driving.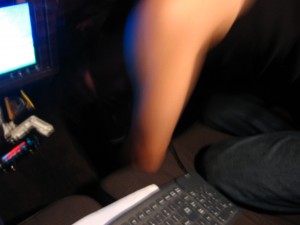 When the carputer is working normally (which thankfully, is most of the time) we are free to enjoy nice scenes, such as the beautiful mountainous territory of Vermont.
NEXT: The beautiful mountainous territory of Vermont.