Savannah! When General James Oglethorpe came to this location in 1733, he had no idea that this city would eventually be the home of KD Blues, Joy Hougnon, and Scooter. But today it is home to those very people.
Also, Savannah is dangerous.
"Why, because of the high crime rate?" you ask, logically, since you are smart.
Nope. Consider this street: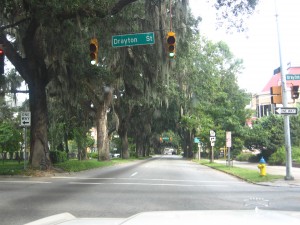 A very nice looking street. Savannah has many of these beautiful, pleasant-looking streets. It appears perfectly safe. But they are videotaping your every move! I got a letter in the mail from them with pictures of me caught in the act of being lost and making a last-minute decision to turn left!
You can see them too because the government of Savannah puts them online. I can't link you directly, but if you enter in my violation number ( R068374 ) and my licence plate ( PNG685 ) you can see the results of their snooping. I must say, the Lovemobile looks quite nice from above like that.
When I arrived in Savannah, however, I had no idea the town was waiting for me to make a wrong move so they could photograph me and mail me tickets. Quite the contrary — the town seemed pleasant and charming, even welcoming. I met up with KD Blues, a singer and all-around awesome dude.
"Let's see a picture!" says Attractive Girl, who is always interested in musicians.
Sorry, AG. Not only did I forget to take any pictures, but he is happily married to an awesome girl named Elizabeth, who has a fondness for words, such as 'petrichor.' But you can check out his myspace.
KD put in some nice vocals for a tune. Then I was off to rendezvous with Joy Hougnon, a happening peep I knew from WU. She is in the Army and is currently stationed in Savannah. Her job is to videotape unsuspecting tourists to make them never want to visit again! Haha, just kidding, she is not that type of person. She is, instead, cool.
Joy and I popped over to a coffee shop, where we imbibed some beverages (I had bubble tea!!1!) and caught up with each other. It was a pleasant time. Also, she is doing language stuff, and is a self-proclaimed lover of language, so I taught her Korean in about 10 minutes. I even gave her some homework and by the end she was getting it right without even looking at the guide. 조이, 잘 했어!
Joy is also very mysterious. I tried to get a picture of her, but this is best I could manage due to her amazing stealth skills, which no doubt she learned in the Army, because I don't remember her being that stealthy at WU.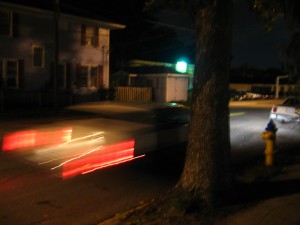 Then it was back to KD's where I spent a lovely evening hanging out with KD and Elizabeth.
The next morning I was off to get a secret moving violation and record a fellow that contacted me by the name of Scooter. Scooter's super power is the ability to play the guitar so fast that his arm gets blurry.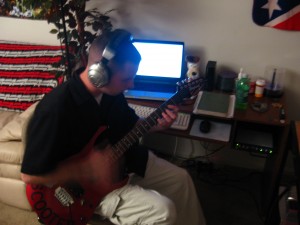 He also writes and records his own songs in his room there. I had a listen and he has recorded some great stuff.
Scooter put down some guitar for a tune and then he had to be off for work. But we had a very pleasant time chatting about music and recording stuff. What do you think, Scooter?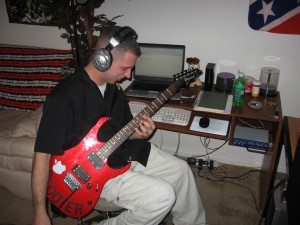 Yep.
NEXT: The nation of Florida!