After hanging around Philly a bit, we dropped JH at the airport so he could catch a plane back to Omaha and start his classes at Creighton. It was good times having him on the journey with me.
Bye, Jong Hun! See you back in Omaha.
Pennsylvania's Facebook friends were much better about checking. I got in touch with several old friends, Micah (Keen) Willams in Mechanicsburg and Steve Falkowski in Philly.
I went to school with Micah — she and I were in the same program and took a lot of the same classes. She is currently working for a really interesting organization called Global Awakening. She is also quite pregnant and expecting a new bundle of joy in her family. I met up with her at her place of employ and saw the facilities. Their auditorium is quite nice, and it was the chosen location to record Chris Ishak.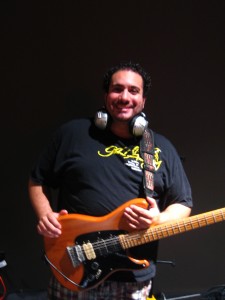 So who is this guy? Micah provided the Chris connection, and I was glad of it. Chris is a great guy who is involved in various music goings-on at GA, and was happy to be part of the project. He's also a great guitarist and put down some great guitar parts for me.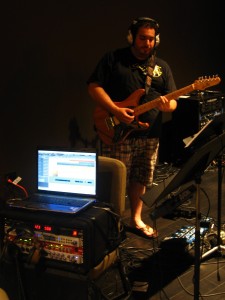 After recording Chris, it was back to Philadelphia to meet my erstwhile friend, Steve Falkowski. I had known their family a long time back in the day from church, but hadn't talked to Steve in close to 8 years. His dad is a great saxophone player, as well as the founder of a great ministry to people in nursing homes, and was one of my heroes back when I was learning saxophone. Steve was that witty, quiet kid over in the corner that everyone wished they knew. I have fond memories of playing the "-tion Game" with him for literally hours on a van ride to Chicago once.
Interestingly, Steve studied architecture at Kansas U, studied abroad for a while, and is now working for a firm in Philly doing fun architecture stuff. (Two architects in three days — doing well.) I had a most excellent time with Steve about Philly, reminiscing about old times, catching up with each other, talking about beer and the state of the church and the world. It felt too short, and then Steve deposited me at the door of his friend Adam, who was able to put me up for the night.
His friend was asleep, so I just walked in to a strange house belonging to a strange person and went to sleep on a bed there. Amazing. I did find a note addressed to me on the table telling me some pertinent information though so at least I knew I had the right house.
I had a bed!! After sleeping on so many couches, a bed looks most welcome indeed. Of course, compared to my car, a couch is quite welcome too. My car is wide, but not quite wide enough for a long person like me. It's a bit cramped.
Adam also had an impressive music collection. I was in awe, raptly staring at his collection. I made some notes of artists to check out. I didn't start listening to any of it though because a) he wasn't awake to ask permission from, and 2) if I started listening to great new music I almost certainly would lose a lot of sleep, something I can't afford to lose on the road.
I left Adam a note telling him to wake me up in the morning before he left so I could at least say hi, which I did, from my groggy morning stupor. I have a vague memory of a friendly smiling dude saying hi.
When I woke up for real, I rendezvoused (check that conjugation action) with fellow Couchsurfer Rachel Cantzler. We walked around the Drexel campus, where she is a student, and chatted quite a lot over coffee. We talked about school, each other, good/evil, books, personal anecdotes, etc. for a good long while. Then it was off to another place for an afternoon beer and more of the same. Good times. That's exactly what I was talking about before — the proper way to travel. Life is a story, and it becomes richer when interacting with the stories of others.
Finally, in the afternoon, not long before I had to leave, she casually mentioned that she played string bass with orchestras and stuff. WHAT! You say this NOW, when I'm about to leave?? Sigh. I guess it's her loss. (That's my rationalization, even though I know that really it's the world's loss.)
NEXT: Hey, I'm in Delaware! … (looks around) …