Montana! I'm pretty sure that if it had an 'ñ' instead of just an 'n', it would be Spanish for mountain. Which is appropriate, considering that Montana had a bunch of those.
I was driving in the vaguely hilly, sparsely vegetated land of Wyoming for a while, then went up towards Billings, and then things took a turn for the west.
"As bad as that pun was, I think I have to give you some grudging respect for it," confesses Attractive Girl, her brow furrowed cutely.
How grudging?
"Very grudging. So grudging that I will require years of therapy."
Wow. I will endeavor to use less respectable puns in the future.
"You know, it's better if you don't use any."
But I'm an English teacher, I have to use puns.
"Oh, why didn't you say so?" She looks at me in newfound wonder. "Because in that case my repect is not grudging. Teachers can make the stupidest puns ever and still be pretty cool."
Yeah, so I was driving along westward for a bit when suddenly (and by "suddenly" I mean "very gradually") I came upon a bunch of mountains!
From here on out it was mountains, mountains, mountains.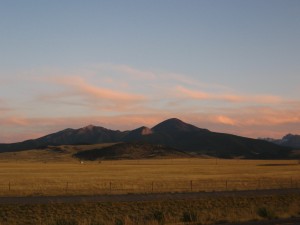 And bugs, bugs, bugs.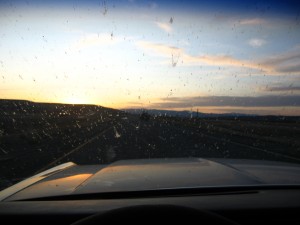 Unfortunately again, no one from Montana had contacted me about recording, but I did manage to find a host: one Jeffrey James. He owns some property north of Missoula, whereupon he lives, raises chickens, builds his own mini-golf course, and sells cars. More information about his property here (in particular, check out that mini-golf course; it's pretty amazing). He also built a tiny little guest house for Couchsurfing visitors to use!
It was the first time a Couchsurfing host has set me up with an entire building all to myself! The funny thing was that the weather was at the point where the warmer interior of the room was attractive to insects at night, but when the sun was shining it was too hot for them. And there were evidently a few little places where crawly things could find their way in, because I woke up to this: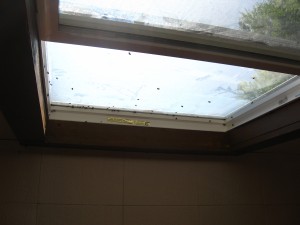 It was pretty awesome, and I'm wishing now that I would have recorded it. It was constant erratic buzzing.
This dude gave me the mad hookups. I spent the evening eating a terrific burrito and lounging in a hot tub under the Montana stars. The following day I got the grand tour of his property, which is located in beautiful mountainous countryside,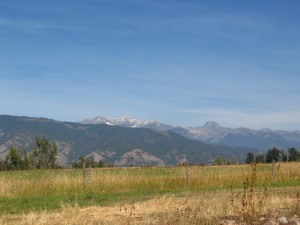 including chickens,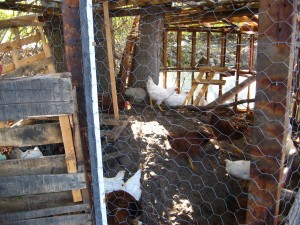 both a limo and a bus,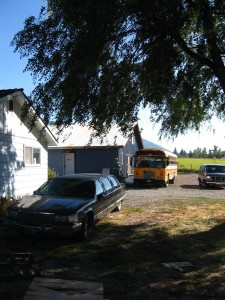 and a Mystical Rock. He found the rock buried in the ground when he was running some new pipe or something, and decided he would pull it out and stick it in his yard, aligned perfectly with the highest mountain visible from his property. Ooooh.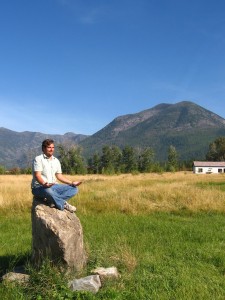 And that was that. Next thing I knew, I was headed into Washington.
NEXT: Heading into Washington.