Okay, let's give this another shot. Narrative devices, are you all set to not interrupt me?
"That's right!" they all say together.
Great. So, Washington DC! The trip to the city began with a visit to my host, an awesome CS dude named Francis Kim. He had a very nice place right at the entrance to Chinatown. He also had a nice view from his 11th floor balcony:
Fran hooked me up with the sweet eats while I was there. Seriously, I ate a like a king. The King of Goodfoodland, in case you were wondering which King.
I hung out with Francis that night, and the next day I was off to record Jose Vanegas, a percussionist who lives in the Virginia DC suburbs.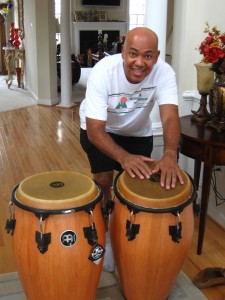 Jose was very friendly and conversive, a pleasure to work with, and a skilled percussionist. He plays with salsa bands around DC, and has a great sense of energy in his playing. We recorded some congas (above) and some bongos (below).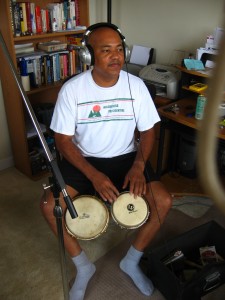 I was fueling up on the way back when I noticed some dead grass hanging from the corner of my front bumper. I went to remove it, but I noticed it seemed to be attached to something. There was more dead grass and stuff in there. I continued to pull and more and more material kept coming out.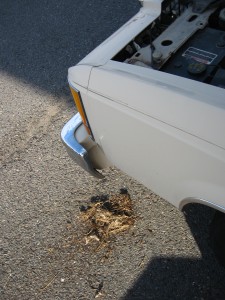 When I looked more closely, I saw feathers and such in there. And the way it was all tangled together, I realized it was not just random debris that collected in there. It was a bird's nest. In my bumper.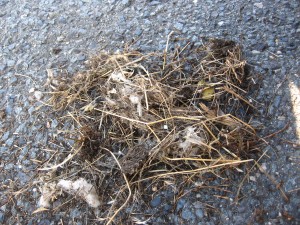 That pile you see is just the beginning. I pulled even more out, but I stopped after cutting my finger open on the inside edge of the bumper. So, there is still some residual bird's nest in my bumper. Who knows how long it's been there!
That evening Francis was having a dinner party with his friends, and he informed me that I was most welcome to join. I had made arrangements to meet a friend for dinner, but he informed me that friend was most welcome too. So I informed my friend that he was most welcome, and we all had fun at Fran's!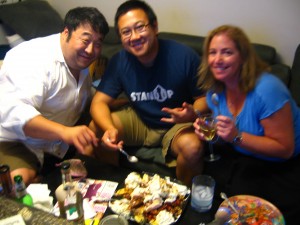 "Excuse me," says Attractive Girl politely. "May I ask a question here?"
Why yes, narrative device, you may.
"Who is this friend, and why didn't you take a picture of him?"
Ah, that is two questions but I'll give you a two-for-one deal. The friend in question is one James Bosworth (a.k.a. Boz), former suitemate at Washington U in St. Louis. He also writes a terrifically interesting political blog dealing in particular with Latin American issues. He actually landed his current job due to that blog. Way to go, Bloggings by Boz!
I had a great time catching up with him, and it was far too soon when he had to return to his home, but he was always a morning person. Like, early morning. Like, "good morning Zach" "goodnight Boz" early.
I drove all around DC and saw a lot of the sights close up, but I forgot to get pictures, so I'll leave you with a picture I took when I remembered I should be taking DC pictures.
"Excuse me-"
Yes? You know what? This "polite narrative devices thing" isn't working out. Just go ahead and interrupt if you feel the need to ask something.
"Okay. I just wanted to mention that you never answered my second question."
Oh, that's right. I didn't take a picture of Boz because he is terrifically good-looking and I don't want to make myself look bad by comparison.
"Is that a joke?"
Of course not. … Yes?
"Did you actually just forget again?"
Sigh. Yes. He is pretty good looking though, for someone who is not an Asian girl.
"I guess that means I'm Asian then?"
In my brain you are. But in others' brains you are whatever they like most.
"Sweet!"
Yeah. Okay, here's that picture.