The next day I drove to Mobile. It was a long, epic journey. While I was driving I got a call from a Couchsurfer named Susan McLean, who came across one of my hosting requests and agreed last-minute to host me. Yay, I have a host! It's always transforms an ordinary hum-drum day into a good one to line up a host. So, I met up with her and her boyfriend Bryan at O'Charley's, before heading out to play some pool. After the poolage, a goodly number of peeps headed over to their house to hang out and let good times roll.
And, Susan likes fish!! As pets, that is. She is an aquarist. We talked nerdily about fish for at least half an hour, and I enjoyed looking at her tanks.
I had a great time hanging out with Susan and Bryan and all of the other peeps that came over to their house. They are both awesome and sadly I failed to take any pictures, because the next day when I woke up they were gone and I had to be on my way. But I did get a picture of the bed. Why? Because it's not a couch or air mattress.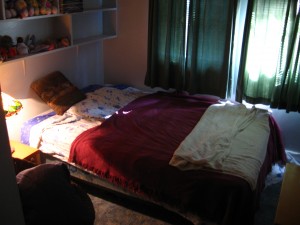 When you have been sleeping on as many couches, air mattresses, and car seats as I have, you have a new appreciation for real beds. I certainly appreciated this one.
And that was Mobile.
NEXT: Some Orleans, of the New variety.