Guess where I went next?
"Um, Atlanta?" you guess.
Correct! Great guess!
"Um, it's in the title?" you point out.
Still, a great guess. Yes, I went to Atlanta. Guess how many musicians responded to my ads?
"How about two?" you guess again.
Looks like you need answers to be in the title to guess correctly. (Ooh, punk out!) The correct answer is zero. Cero. Zilch. Nada. 공. I know for a fact that Atlanta is a bustling music city so, despite previous similar happenings in other big music cities, I was surprised by the lack of response from Atlanteans.
At least I did find a host. A truly awesome host.
"What was this person's name?" asks the unattractive passerby from earlier. (He could use a name. Any name suggestions for the unattractive passerby?)
This person's name was Trinh Huynh (might help you pronounce it if you read it like "Trin"). She was hospitality incarnate to Brad and me.
"Wait, Brad?"
Ah, yes. The friend who I mentioned was flying in to Atlanta.
Backstory: Brad Tretola is an absolutely phenomenal guitarist who I met when I was a music student in Minneapolis. There is a great story of how we met, which we always tell to anyone that asks how we know each other. In a nutshell, he thought I was a classical, printed-notes-only girl, and I thought he was a guitar poser hippy, and we were both incredibly wrong.
I had arranged earlier to meet Brad in SC at his parents' home, where he was then staying. (Brad travels like a fat kid eats. That is to say, a lot, all the time.) But he had a tour cancel on him and somehow he found himself up in Jersey with some great musical prospects. He wanted to honor our gig but wasn't sure how he could make it work. We ended up getting him a ticket back to SC for a couple days, and his flight had a connection in Atlanta, so we thought it would be cool if I just picked him up in Atlanta and he drove with me over to SC.
So that's Brad. Now, back to Trinh. She is an accepting and quick-witted girl with a great place and an even better little dog named Henry who is a funny, friendly, enthusiastic little fellow.
She was going to have a dinner party that evening, so we helped her shop for food, then sat guiltily in her house while she cooked after she refused to accept our aid.
As it turns out, it's probably good we didn't help, because the meal was phenomenal. She made bowls of some delicious Vietnamese concoction with noodles, pork, apples, and veggies in a spicy fish sauce. But what really set it apart was the fresh mint leaves! Totally unexpected, but super delicious.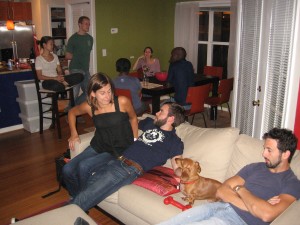 Everyone is there in the above picture. Trinh on the stool watching everyone enjoy the fruits of her labors, Henry enjoying the people on the couch, and Brad sleeping next to Henry (in the middle of a party!).
One of the guests had brought a guitar, and we managed to coerce Brad into playing it ("Brad, want to play?" "Sure"), which is always a treat. He even tried using a glass as a slide, but it was too big, so next they tried a shot glass, and finally, Trinh found the perfect solution: a test tube!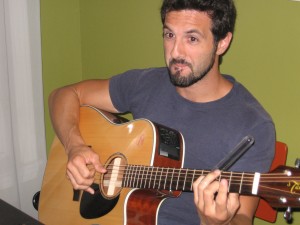 The next day, the three of us went to 순두부, a Korean restaurant specializing in, you guessed it, 순두부. It was delicious. Super delicious. I had been craving that very dish (it's like a spicy tofu soup) for a while, and when she mentioned that as a possibility I perked right up.
And that was Atlanta. Better luck next time, Atlanta.
NEXT: Recording at the Tretolas'.