The following three days (Sept 2-4) saw me driving around in the great state of Florida. As it turns out, is it a state, not a nation. Thanks to all the readers who emailed me with that correction.
Day 1
I spent the first day, which was also my last day in Savannah, driving down to Jacksonville and swimming at the beach. No one had contacted me from that area so I spent the day enjoying the sun and surf.
True and interesting story: I got absolutely pwned by a big wave! This one big wave was coming and I was ready so I dove through it. I came out on the other side only to see another huge wave coming in right after that one. I swear that wave was not there before. I was knocked off my feet, my 160-pound body tumbling along like a leaf. It scraped me along the ground, keeping me unable to regain control due to its strong current. Finally I stood, yards away from where I had been, with a bloody scrape on my back and not-bloody-but-still-painful scrapes on my extremities.
Conclusion: big waves are friggin' sweet.
Yeah, so that one picture shows a dude landsailing, or paradriving, or whatever that's called. He kept going back and forth up and down the beach, sometimes at incredible speeds. What's more, sometimes the wind would be so strong it would lift one of his wheels, like it did one second before I took that picture.
Oh, also in Jacksonville I saw this amazing street name: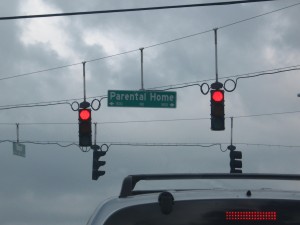 After swimming at the beach I drove to Orlando and found a nice out-of-the-way dead-end street where I could sleep in my car.
Day 2
The next day I poked around Orlando a bit before heading over to Lakeland to meet my friend from NCU, Josh Nelson a.k.a. Schwa.
"That seems like an unusual nickna- ohhhh wait, it comes from JoSHUA doesn't it?"
Once again proving that you didn't need to interrupt me.
"Well, look who woke up on the wrong side of his car."
Haha. Anyway, instead of meeting Schwa I met his roommates, because Schwa was at work. I hung out with them for a while until he got back, whereupon we ate some tasty Steak 'n' Shake.
Day 3
The next day was busy like a schoolboy making an A. First, I popped over to Palmetto to record an old musical cohort, Chad Vice. I knew Chad from church back in the day, where we had played together in the worship band. But well before that, Chad was one of my piano-playing heroes when I was just a lowly middle-schooler. I loved to watch the band play at church, and in particular Chad's great rock piano playing was something that greatly influenced me as a young musician. I would come home and figure out (or try to figure out) what Chad had been playing.
So it was a great day for me to record with another of my childhood heroes. Chad's schedule is crazier than a hatter, but we were still able to work some time for me to come over to his place, where he happens to have a piano.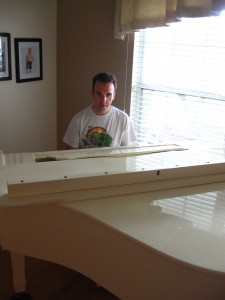 We had a good three hours in which to try to get through a couple songs, which we barely managed to do before swarms of his family descended upon the house, rendering it unfit for recording, but also rendering it fit for good times and tasty dinner.
I enjoyed a splendid dinner with the Vices. Then it was time to head back to Lakeland to record with Schwa and friends, so I started to leave but as Chad was showing me off he pointed out a lizard! Florida has lizards!! They're all over the place!!
So, after going back by his pool and seeing many more forms of wildlife (including huge spiders, brown anoles, tiny geckos, wasps, dragonflies, damselflies, and children), I was finally off.
Chad recommended I go a wee bit out of my way so as to drive over Tampa Bay. He alleged that there was a very scenic drive which included a huge bridge. It turns out that Chad's claims were true.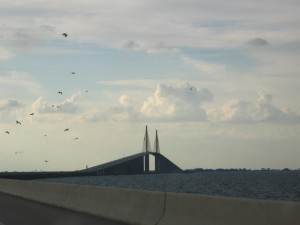 The bridge was also scenic, as Chad had claimed.
Then I was back to Schwa's place momentarily, where we joined forces with Schwa's bass-playing roommate Myca and headed over to the campus of Southeastern University (where Schwa is a student) to find us a place to record.
There we met Schwa's other friend, a guitarist named Rob. We ended up setting up in one of the classrooms, which was quiet. Too quiet.
MPM: But all that was about to change…
Group handclaps! I have mostly been recording people one-on-one and haven't had a lot of opportunities to record groups, so it was fun to record a group of people clapping for one of my songs.
After the clapping warmup, it was back to the one-on-one recording. We began with Rob, since he had driven separately and had homework to do later that night.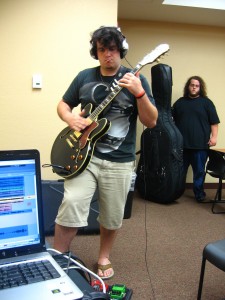 Rob specializes in bizzare noises and wacky sounds. He has a lot of nice effects pedals and knows how to use them to get a wide variety of noises. I had him make awesome spaceship sounds and crazy ambient noises over a couple tunes and then he had to go.
During that session, Myca had been inspired to look for an upright bass in the building. Happily, he found one, so we recorded him playing it.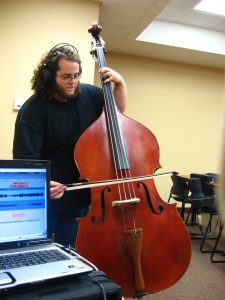 Just FYI: the part we put down is super simple but it sounds awesome in that song.
Then Schwa got out the fantastic-sounding vintage Martin that he was borrowing for our session and laid down some strumming on that same song.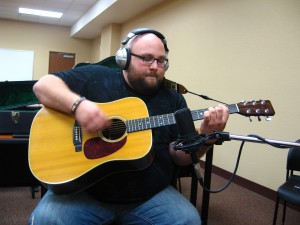 He is a great rhythm guitarist who uses tasty chord voicings. Naturally, I wanted to record more of that, so we also recorded some strumming goodness on another song, and then it was late.
Lateness, however, is no obstacle when you are cool — which Myca certainly is. We set up the equipment again when we got back to their house and recorded some electric bass. Myca and I put a good bit of effort into coming up with a really great bassline for one of the tunes, and then it was so incredibly time for bed. The next day would see me off on an epic journey to Alabama.
NEXT: An epic journey in a few short paragraphs!