Next on the itinerary: the great state of Maryland. I had a guy contact me who said he plays the lyricon. I had to google it before I realized it was a MIDI controller for woodwinds, a.k.a. a digital saxophone. Here's Paul Soroka with his lyricon: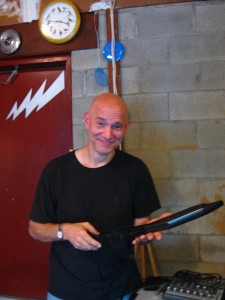 I spent a very pleasant day with Paul recording various things. He's very witty and friendly, which is always great to work with, and quite the funk saxophonist. He showed me some of his own instrumental funk stuff he had done — with Dennis Chambers on drums. It was awesome. We put down some lyricon of course, but we also put down some tenor sax (he's really quite good at the "real" saxophone as well as the digital one).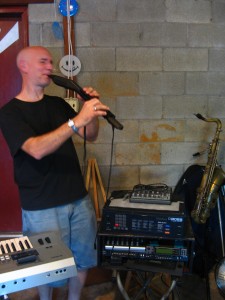 Suddenly he said, "This song doesn't really need lyricon. It needs organ. I can put down some organ for you if you like."
I was like, "Okay."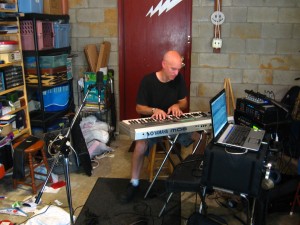 It sounded great, he was right.
All too soon, it was time to be on my way. So, I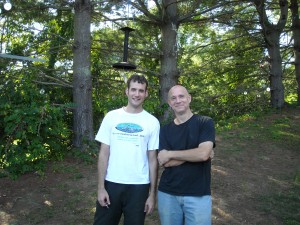 and then I was down to Baltimore to meet the next dude, a singer/songwriter named Matt Rocks. Yes, that is really his name. Go ahead, make the joke — make two. Here's a picture while you do it.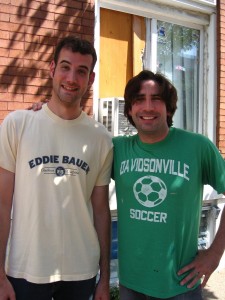 Done? Okay. Matt Rocks is a very talented musician full of great production ideas. I encourage you to check out some of his songs. Lots of great, spacey, slightly dirty acoustic sounds. I met Matt at a bar, where we hung out for a bit before making our way to his home, where we spent a great evening listening to music (his, mine, and Shiina Ringo's).
Next morning, Matt put down a nice rhythm guitar track for me with his acoustic, and then I had to be on my way. Sadly, I left knowing that I had barely tapped his talent. But it was an enriching experience anyway.
Best of luck in your musical endeavors, Matt. You rock.
NEXT: Columbia, District of!