Ladies and gentlemen, I would like to announce: a highly productive three days in MN!
Note: this was written on the night of July 3rd, not on the actual publish date. I'll bring you up to speed on the remaining days in MN next time.
Tuesday, July 1st
I had the pleasure to record with electric guitarist and college friend Adam Brown. Due to his connections, we did the recording at Real Life Church in Roseville (it probably also helped that I'd drummed for them on Sunday). This church has an amazing auditorium; acoustics was obviously a major design element. Not "church hall" type acoustics, more like "controlled sound" — it's obvious it's a big space, but you get no echo at all. Perfect for recording big guitar sounds.
Adam delivered some big guitar sounds. Here he is, just delivering big guitar sounds: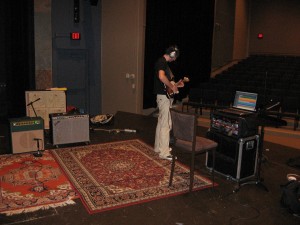 Adam was also my guinea pig for the mobile recording studio. I've already become much faster at setting up everything compared to my session with Adam. I've also discovered a few things I need to buy (mostly extensions for things).
Adam was great to work with, and we managed to also somehow have lots of fun during the whole session. He had some fantastic ideas for some of my tunes, ideas which I would never have had if I'd spent a year thinking of ideas just for those tunes. After recording with him, I became even more excited for the rest of the Tour. If I record 100 people and they all have at least one awesome idea like that, my songs will end up so awesome they will need permits. You know, awesomeness permits.
Policeman: "Excuse me sir, but your songs are not allowed to be that awesome."
Me: "It's OK officer, they have permits."
Policeman: "Oh, nevermind then."
Like that.
I also recorded another old college friend (meaning from a good while ago, not that she's old… she's younger than me) by the name of Fritha Schedgick. She's that rare vioinist who can improvise in a variety of styles. She really enjoyed some of the parts I had for her already, and she also put in some great parts of her own. I absolutely loved the textures and feelings we recorded, and the amazingness that they contributed to the songs.
Her brand-new apartment (she just moved in two days prior) had just suffered a power outage, so we were unable to turn on the fan, which was unfortunate because even when she has power, she does not have air conditioning. So we were fairly well roasting. Look how shiny our faces got: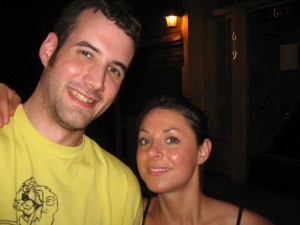 Anyway, by the time Fritha and I finished, it was time to drive to my next host.
"Who is that?" asks the attractive girl.
Seriously, attractive girl… why don't you just change into some old wise dude? Your existence is kind of frustrating me since you're only a narrative device.
"That's simple — I will help you attract more readers due to my attractiveness!"
Oh… great! So, readers, more Attractive Girl coming up soon! For now, let me tell you about my next host.
I stayed with a wonderful couple named Atila and Raj Pegan, and their three young whippersnappers. Other than having a beer with Atila the night I arrived and chatting with Raj before I left two days later, I didn't have much opportunity to hang out with them, but from what I can see they live a really wholesome life, eating all kinds of good-for-you homegrown foods, working as massage therapists from their home, excercising… a life of wellness. I was pleased to be a part of their healthy life, even if only for a bit.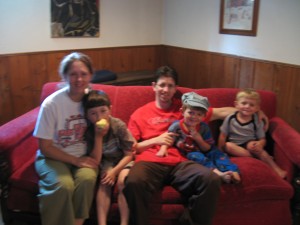 I'm doing my part though… in addition to hauling gear all over the place, I'm also mostly forgoing pop (that's soda or Coke to some of you, or cola or cider or huanta if you're Korean… in the future perhaps I'll just use "Pepsi") on the Tour.
"I award you a Point!" says Attractive Girl.
Awesome! (By the way, you too can win Points from Attractive Girl by living healthy.)
Wednesday, July 2nd
Wednesday started off bright and early with a drive up to North Central University to record Gabe Hagen, good drummer and friend. We put down some sweet drum tracks (one of them inspired by Adam's guitar part from yesterday). He also brought a bunch of fun percussion objects so we recorded some paneira (sp?) and some timbales.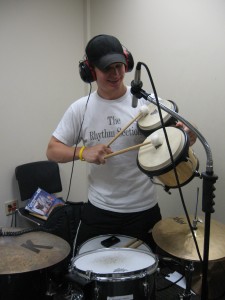 Good times. Gabe is a practice freak (why is it that the guys who practice a ton are the guys who don't need to?) so his chops and playing were definitely up to speed. He was super fun and easy to work with too. So far the only ego issues I've had have been arguments with Attractive Girl. We fight sometimes about whether or not it's possible to imaginarily date her without being "super weird."
After recording Gabe, I headed over to Maplewood to record trombone player extraordinaire, Jeff Rinear. Jeff is a first-rate teacher, arranger, composer, and player, and was my instructor for my first year in Jazz Workshop.
I was in a hurry to get to a rehearsal afterwards so I was in and out with Jeff, but we were able to briefly catch up with each other while working. We recorded an awesomely skanky growling trombone solo, a few other little bits, and then we were done. He also showed me his ribbon speakers!! They're like giant flat panels that magically make sound. Or if this helps, they're like ribbon microphones, except reversed. They sounded positively amazing. If I hadn't been drinking some delicious tea, I would have been drooling.
After recording Jeff, it was off to New Hope Church for a rehearsal. I'm filling in on B3/keys for them this week, at the request of my good old buddy-turned-music-director Matt Riley! Matt accompanied me on my super crazy road trip from Minneapolis to St. Louis for one day. We had good memories of going off the road and getting stuck in a ditch, running out of gas, and freezing to death trying to get to a gas station. Two of those events woke one of us up too. Yeah… great times.
Here is Matt smiling vigorously in front of his office!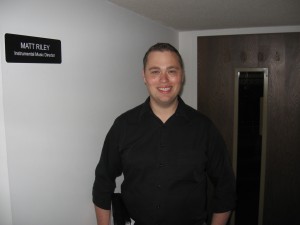 Yeah man, I remember when you were just a little guy, and now look at you, with an office! I'm so proud. Matt is like my acolyte.
Thursday, July 3rd
Thursday started off with a drive up to Peter Shu's house.
"Who is-"
I know, you want to know who Peter Shu is. He is a great player for all things keyboard, in particular jazz and Latin stuff. We used to play together for a long time when he was music director at Christ Church, as well as various coffeeshop jazz gigs. He was also in charge of Jazz Workshop for several years after Jeff. I got used to him mixing up the genres when I drummed for him. I almost never drummed a basic beat with him, which was of course very fun for me. We would do funk, Latin, R&B, jazz, Caribbean styles… you name it.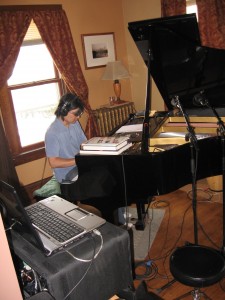 Pete also has a handful of keyboards, as well as a Yamaha C3 (grand piano) in his living room. So we did a couple tunes of recording piano. It sounded beautiful, and Pete had lots of great ideas to contribute. His chord voicings are thicker and more interesting than mine, so it was really fun to hear the different take on tunes I'd played before. We also laid down a track of him playing organ.
After that we had a rehearsal with tasty bass player, Justin Smith, in preparation for the upcoming Taste of MN gigs.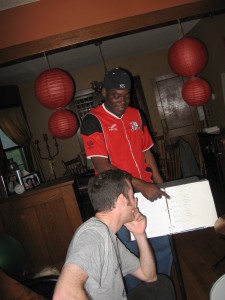 I finished up with a trip over to St. Paul to record my old friend Melody Olson (she's not old either), whose name is no mistake. However, she can also sing harmonies quite well (perhaps it's her middle name, but I doubt it). So that's what she did: sing quite well. Yay!
It was at Melody's apartment when I realized that I really need to get a mic stand. Check this out: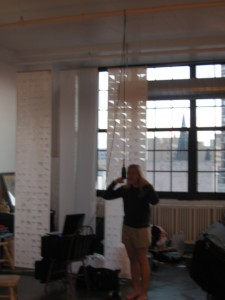 Yeah, that's a mic hanging from a water pipe. We actually ended up recording that way. Amazing.
Melody learns parts super fast and has a lot of singing (and recording) experience so she was super easy to record. Her parts sound great and I was just sad we didn't have more time to record more, but it was already pushing midnight by the time we finished up two songs. (Getting that mic hanging just right was not easy). But it was super fun to hang out with Melody and catch up.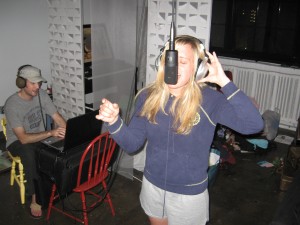 And that's a recap of the last couple days. Right now I'm sitting in a 24-hour cafe called Mickey's Diner, where I've been writing this update. It's so totally American-road-trippy. Feeling awesome.
Things I'm learning:
Collaboration is awesome! 1 + 1 = 3.
Recording goes way faster once you know what you want to record.
People are great, and they have great ideas! Always listen for it and never reject anything out of hand.
Waiting for functional A/C is worth it.
Stay tuned for the next exciting episode of: Zach Records America!