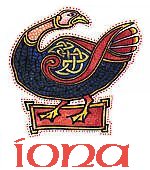 If you love music, I bet you'll like Iona. Commonly described as Celtic progressive rock, their music positively soars. They somehow manage to effortlessly combine traditional Celtic instruments like uilleann pipes, low whistles, the Celtic harp, tin whistles, and bodhrans with more modern instruments such as electric guitar, bass, drums, and even saxophone. Easily capable of surrounding their listener in Enya-esque ethereal soundscapes and stunning rock jams alike, Iona is a great band. They are, to continue beating a word to death, phenomenal!
Their sheer musicality never ceases to astound me. I consider music to be that which is played by musicians, and by that definition, Iona's is music of the highest caliber. Their musical sensitivity and proficiency is what makes them standouts. Plus they play a lot of songs in fun time signatures.
Their albums are often arranged thematically; for example, Beyond These Shores is almost entirely about Saint Brendan's journey across the Atlantic, and all the songs are in keeping with the theme. Musically, the album is tied together in multifarious ways as well. Certain themes appear in different tempos and chord contexts in several songs. These things are things that I only noticed after several listens. That is one thing I love about Iona's music: I am still learning and noticing things about their music, even after scores of listens.
(By the way, that cool Celtic-looking bird at the top is a "goose," the Celtic symbol for the Holy Spirit. That would also explain the goose reference in Kells Theme.)