The next day I was headed out of Mission on to Wyoming.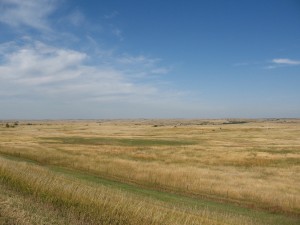 Teresa had recommended that I make a small detour through the Badlands to experience some highly scenic scenes. I didn't really need to, since I saw some nice views just on the highway out of Mission: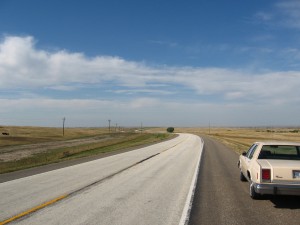 But despite these other nice views,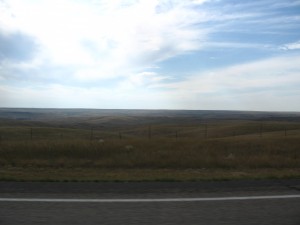 though they were quite scenic,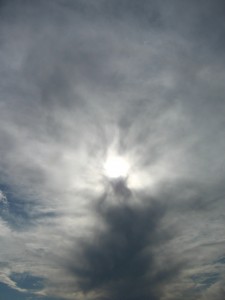 I took her recommendation (Couchsurfing tip: take all the recommendations of your hosts unless you are 100% positive you won't like it. Hosts know what's up.) and saw an incredibly scenic bunch of scenes in the Badlands. You'll want to be clicking these.
Then I and the Lovemobile took one last long look out over the Badlands before saying goodbye.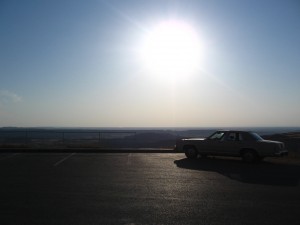 But wait! There's more! I was headed to Wyoming and passed through Rapid City. I seemed to recall Mount Rushmore being in Rapid City, so I started following signs for Mount Rushmore. I also saw a sign that made me feel at home.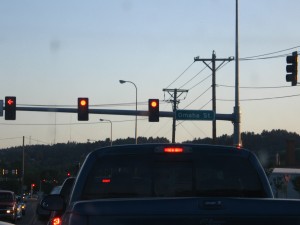 It turns out I was wrong. Mount Rushmore is like 20 miles south of Rapid City. But by the time I realized this I was too far along to turn back. So I ended up being later than I would have liked to my host in Wyoming, but I did get to see the Mount… from afar. I approached from the side,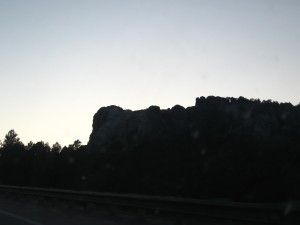 then realized I'd driven around and was on the way back down!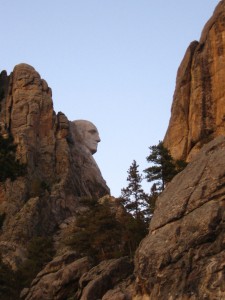 I wasn't about to pay the ghastly fee just to park for a couple minutes, so I pulled over by the entrance to the lot and grabbed this super-zoomed in shot before I left. Sorry, it's the best I could manage in those conditions.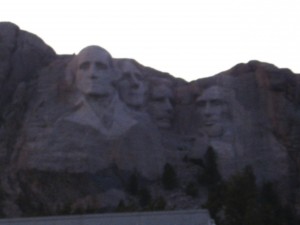 NEXT: I ask my friend Ming what reason she had for choosing the 15th letter of the alphabet!